AER
---
AERの製品の中ではMD1B,MD3Bが低音が良く出ます。
特にMD3Bをお勧めいたします。
MD3Bは高額ですが、AERでは一番売れているとのことです。
世界一のフルレンジといっても過言でない!!とメーカーは言っています。
AERからのメールです。
MD3B is smoother and finer and more detailed and more dynamic.
MD3B is absolutely wonderful
フェイズプラグを何故つけないか?
高域がファンタステックな音にならないとのことです。
いろいろな材質(砲金、チタン、銅、黄銅、真鍮・・)でテストはしたようですが、
無い方が一番音質は良いとのことです。
Feastrex driversのデザインからすると 、一見間が抜けて見えますが、
実物をみるとサブコーンも大きく 、これはこれでなかなか良いデザインと思います。
サブコーンの大きさが音質の良さにかなり関係しているようです。
---
MDシリーズはbdシリーズに改名。
販売価格 ペアは2個
bd1 2300ユーロ(税別)/個 
bd2(2B) 3000ユーロ(税別)/個 
bd3
3900
ユーロ
(
税別
)/
個 
---
MK1,MD1,MD2, MD2B,MD3,MD3B, Studio Bass
---
AERのお勧めはMD1,MD1B,MD3,MD3Bです。

販売価格はお問い合わせください。
フルレンジとしてはかなり高額です。
(ただし高耐入力、高能率、超解像度、ハイスピード、弦、ピアノ、ボーカル等は秀逸です。)

バックロードホーンスピーカーに使用するなら良いと思いますがEMS LB8EXMK2,励磁電源を購入した方が良いと思います。
(MD1クラスでもほぼ同じ価格くらいです。)
---
Lowtherアルニコタイプは磁石が大きくなるほど音が悪くなる(現在販売店の評価/PM6Aが一番音は良い)
とのことですが、AERは磁石が大きくなるほど音質は良くなります。
AER, F.Keller 氏からのメールです。
the high regíon of the MD drivers sweet and soft absolutely phantastic
Bass is extremely well.
★Keller氏は昔,Lowtherで開発をしていた方のようです。
Lowther driverの長所、欠点も分かっています。
---
MD1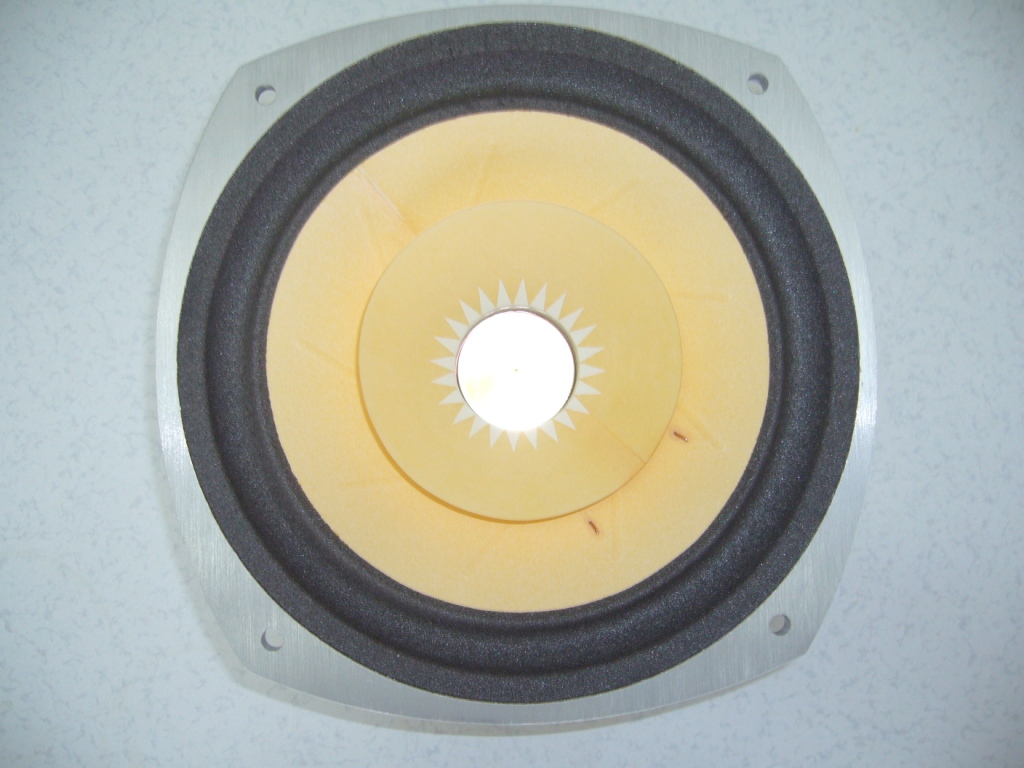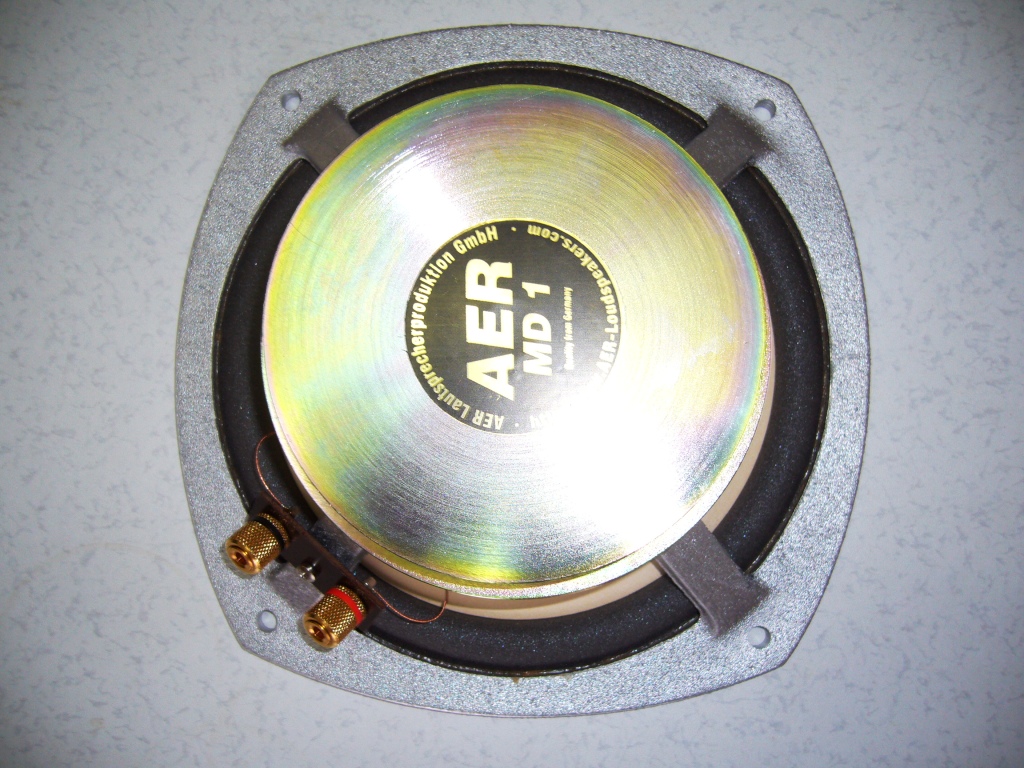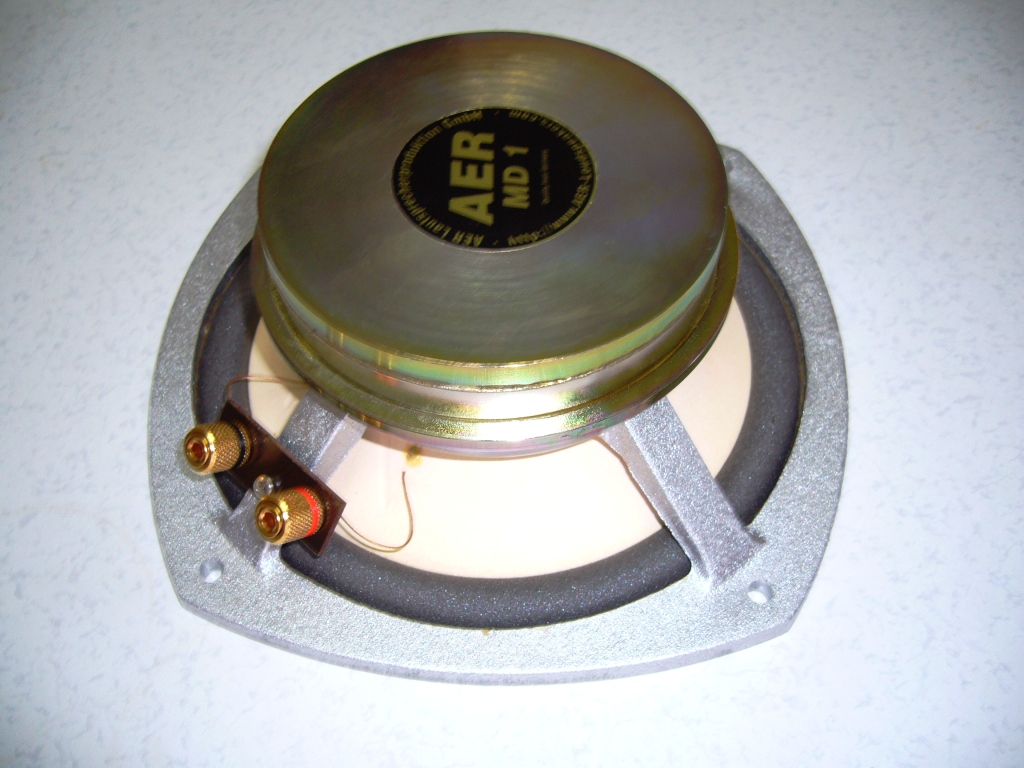 音質の好みは個人によりかなり異なりますがLowther PM6Aより音は良い!!と思うはずです。
ボイスコイルドブルは全くありませんし,シャウトもありません。
AERとドイツの2社、日本の1社がFront partsを使用して励磁型を開発していましたがMD3,3Bの音質を超えることができず販売を断念しました。(かなりの高音質でした。)
今まで聞いたフルレンジとは次元が違う!
と感激の電話をいただきました。
(もちろんオリジナルキャビネットを設計、
材質はMDFでなくフィンランドバーチなら更に音質は良くなります。)
音質の好みは個人によりかなり異なりますが、
MD1クラスでもLowtherPM6A ,DX3,EX3より音質は良好。
ジャズ、クラシックを聴かれると驚かれると思います。
高耐入力、高能率、高解像度、スムーズで高域も良く伸び、低音も良く出ます。
少し高額ですが、価格以上の音質を手に入れると思います。
詳しくはAERのホームページまで
http://www.aer-loudspeakers.com/index.html
Technische Daten MD 1

Frequenzgang (in geeignetem Gehäuse):
Übertragungsbereich:
Wirkungsgrad:
Belastbarkeit (in geeignetem Gehäuse):
Impedanz:
Gleichstromwiderstand:
Nennresonanzfrequenz:
Mechanischer Q-Faktor Qms:
Elektrischer Q-Faktor Qes:
Gesamt Q-Faktor Qts:
VAS:
Luftspaltinduktion:
Feldstärke:
Breite x Höhe des Korbes:
Gesamttiefe:
Befestigungslochanordnung rechteckig:
4 x Lochdurchmesser:
Schallwandausschnitt:
Gewicht (Masse):

20 Hz - 21.000 Hz +/- 2,5 dB
20 - 80.000 Hz
103 dB / 1 W / 1 m
100 W nom. / 300 W mus.
16 Ohm
12,8 Ohm
38,1 Hz
4,3650
0,2791
0,2623
79,8165 Liter
1,931 Tesla
300.000 Maxwell
20,2 cm x 20,2 cm
7,4 cm
14,0 cm x 15,2 cm
7,0 mm
19,0 cm
2,7 kg
---
MD 3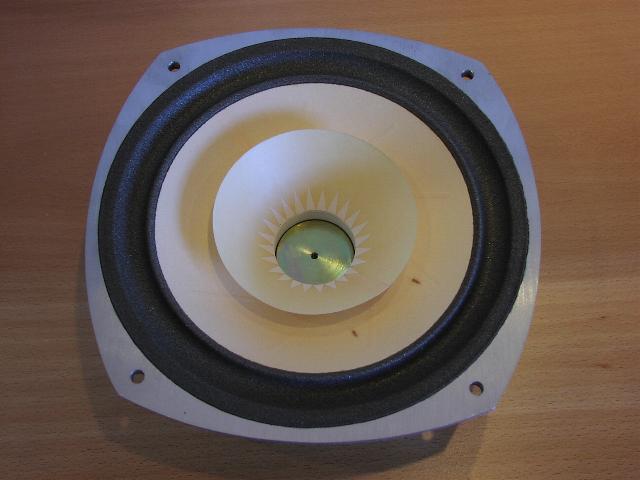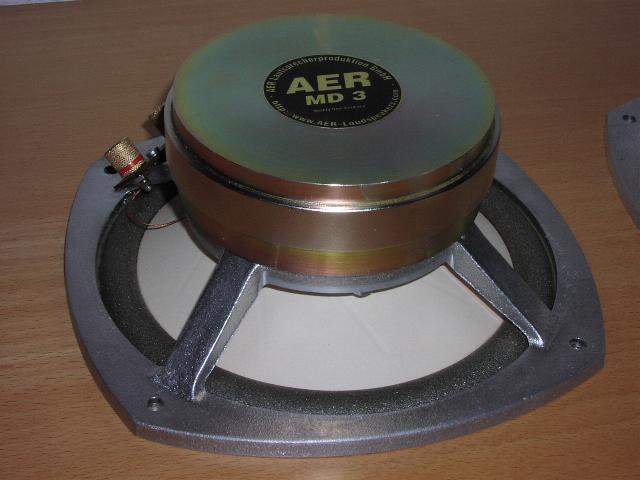 The AER MD 3 uses our strongest and biggest rare neodymium magnet. The ends of the air gap where as a matter of principle magnetic distortion are created are very far away from the voice coil. The magnetic field is driven into saturation and stretched very long in a homogenous way. Pole plates and pole piece are dimensioned that way that a especially flat rising of the impedance curve towards high frequencies is guaranteed.
The neodymium magnet by means of thick pole plates is protected against electromagnetic fields. It is characterized by a high cross section and by its very low electrical impedance. All magnetic field lines are used for the motorisation in the centre-near area of the air gap. Voice coil and diaphragm of this loudspeaker are capable to do excursions of 7 millimetres without leaving the full transmission area of the magnet.
This drive unit is designed according to the AER Formulae and shows an extreme flat frequency response curve, particularly showing a very high efficiency in the highest highs. It is especially designed for big front loaded horns with highest efficiency. The horns have to be able to support the drive units in the low frequency and mid range area and need to have exactly the same efficiency as the drive unit itself. For that reason they should have a very high acoustical impedance towards lower frequencies. By means of its special design-characteristics the magnetic inductance of the MD 3 was increased again and the field strength of the magnet was risen dramatically resulting in an even higher efficiency that is making the system to an ideal front horn drive-unit..
For that reason this loudspeaker should only be used in AER horn systems for example the AER EXCenter Horn in the following called AER EXCH. Used this way the AER MD 3 in our opinion is the summit of the physically and acoustically possible. Listening to the AER MD 3 a tremendous and beautiful mid range is spread crowned by a fantastically brilliant soft and mild high and super high range -far up to the supersonic range.
Music by that is getting an absolute extraordinarily plastic figure so as if you could pick single tones out of the music. In combination with a powerful subwoofer system listening music is getting a tremendous adventure.
The MD 3 fascinates you with an extreme full and warm sound and truly explosive and eruptive dynamics, a breath taking never heard before resolution and is extreme rich in musical detail
---
MD 3B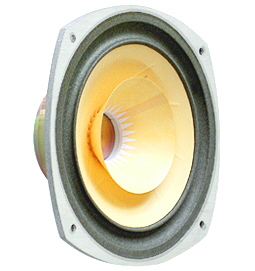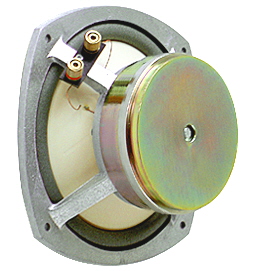 Voxativ AC-3(B)X (Leather Suspensions)より高解像度、低音再生、中高域の音質は良いです。
Great Vintage Loudspeakers社のAL2WVL(AER Frontparts 使用)励磁型(1ペア45万円)の音質はかなり良いのですが、MD3,3Bクラスの音質を超えていません。
The AER MD 3B
is a comparatively new AER design the stands for a bass. In this unit a very large rare neodymium disc magnet is used.
And therefore in comparison to the MD 2B besides a slightly risen efficiency especially dynamics and attack could be improved again. The magnetic field is very long and homogeneous in the whole air gap.
The pole plates are dimensioned in a way that the neodymium magnet is protected against magnetic field distortions of the voice coil very well. It has a very high cross section area and inside a low electrical impedance. Along the whole air gap length all lines of the magnetic field are used for the transmission of force. The widened air gap allows an excursion of the moving membrane of 10 millimetres without leaving the linear motorized area also at tremendous impulses.
The MD 3B was intentionally designed as a real fullrange drive-unit to get a controlled base. It is designed according to the modified AER Formulas and appears with a very flat frequency response curve and a reduced high efficiency. The high mass of the whole magnetic construction guarantees an extraordinary stability of the sound stage.
The MD 3B is designated for the use in front loaded and back loaded horns. By means of the stronger and lager magnet compared to the smaller B- models it has again increased dynamics, improved resolution and its ability to differentiate is so extreme that it is also especially designated as a mid & high range unit. Its special destination is in the use as a fullrange drive-unit.
In comparison to the other B-models the MD 3 B shows an even stronger and more mighty base that spreads full forces - the use of a subwoofer is obsolete. For the mentioned reasons the MD 3 can reproduce astonishingly levels in the bass range.
Build into the AER Acoustique or AER Acoustic you get an increase in the level below 100 Hertz up to 8 db. Listening to the MD 3B an extraordinarily balanced and beautiful mid range is crowned by a fantastically glowing soft and mild high & highest range, widely ranking into the ultra sonic.
Music gets a realistic and truthful plastic shape as if someone could pick out the single tones. Listening to music will get an impressive experience.
The MD 3B fascinates you with very full and explosive dynamics, a up-to-date never heard resolution and richness in acoustical detail.
キャビネットはバックロードホーンスピーカー、フロントロードホーン、密閉タイプ(120リットル前後)、オープンバッフルなどが使われています。
Bタイプはバスレフタイプにも使われています。
重低音を追加するためAER 15inch Studiobass も販売されています。
(EMS B15EX 15inch 励磁型 Woofer(ウルトラハイスピード)の方が性能も良く安いのでお薦めです。)
---
---